FREE DAILY TIPS
Completely FREE 1st half football betting tips added daily
VERY HIGH WIN RATE
Very high prediction win rate on our Free and GOLD VIP Tips
FAST & EASY TO USE
Fast & Easy to use interface to quickly view all our football tips and results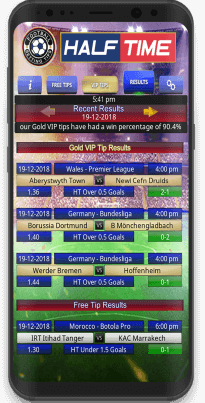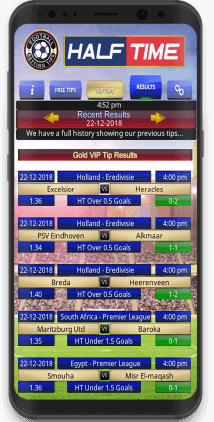 Half Time Football Betting Tips
We our very proud of our Extremly High win rate on our first half football betting tips which has constalty stayed above 80%. Because we are so confident in our Tips unlike most other football tip apps we show you a complete history of our results.
Completely FREE 1st half football betting tips added daily
7 day FREE access to our Gold VIP expert football tips
Complete full history of all our results
Very high prediction win rate
Features of our App
If you download our Half Time Football Betting Tips App in the Google Playstore you will get all of these features and more!
FREE FOOTBALL TIPS ADDED DAILY
Free first half football tips are added to the FREE TIP section of our app every day of the week.
GOLD VIP TIPS FREE FOR 7 DAYS
Our Gold VIP Tips have an extremely high proven win rate. When you first download our app you will get them FREE for 7 days.
FULL HISTORY OF OUR RESULTS
Beacuse we are so confident in our tips and our tips have such a high win rate we show you a full history of all of our results.
KICK OFF TIME IN YOUR LOCAL TIME ZONE
We show the correct kick-off times for your local time zone so it is much easier for you to see when a match is about to start.